The Best Things to do in Costa Rica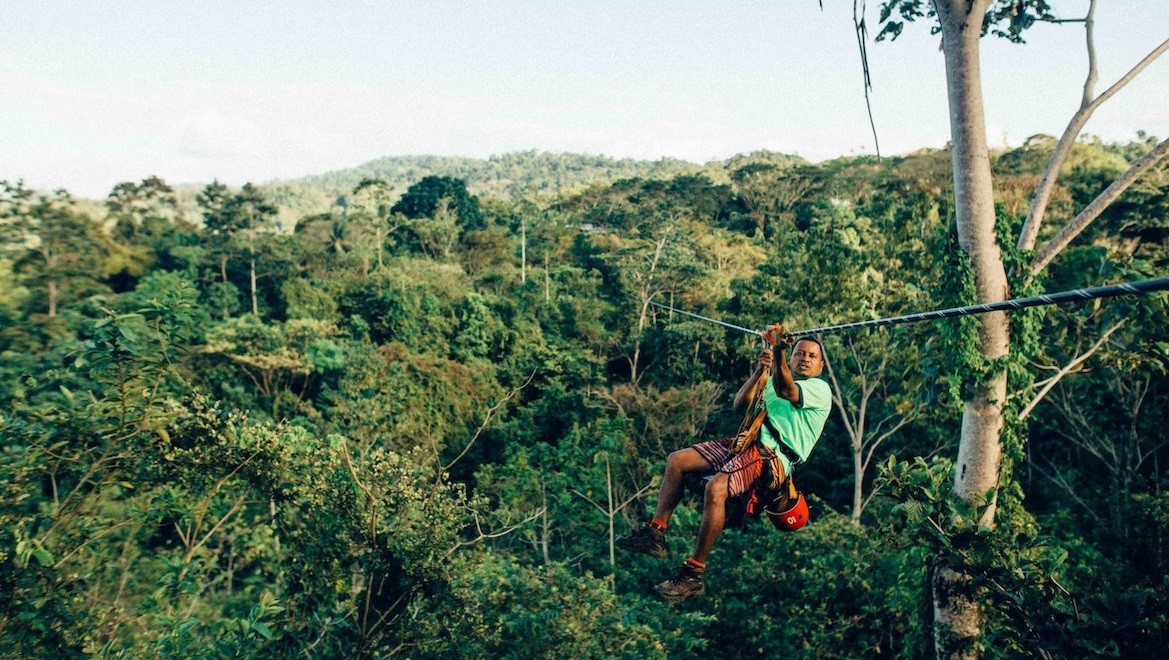 Costa Rica is an incredible country. From the cities – bustling melting pots full of life and unique experiences – to the miles and miles of carefully preserved tropical forest, abundant in waterfalls, hot springs, and rare wildlife, there are so many things worth shouting about.
Costa Rica receives millions of tourists every year, and invests significant money into the preservation and upkeep of its natural world. From hanging bridges to ziplines, hiking trails to boat rides, there are many innovative and unobtrusive ways for you to enjoy this world, and leave with a headful of unforgettable memories of this beautiful country.
So, here it is – our favorite things to do in Costa Rica, whether you're here for a long weekend, a watersports vacation, or a see-everything road trip.
Lake Arenal
Right on the doorstep of Arenal Volcano National Park, which offers more than 45 square miles of beautifully preserved wet forestry, diverse wildlife, and two volcanos (one, Arenal itself, which has been dormant since the late 60s, and another, Chato, which has been inactive for 3500 years).
The lake lies just outside of the park, and plays host to some incredible, once-in-a-lifetime views of Arenal Volcano, and the wash of lush, green forest at its feet. In the early mornings and evenings, the bright blue waters contrast perfectly with the orange flashes in the sky – and, against it all, you have the silhouette of the dozing giant.
Beyond the views from the lake, there is plenty to keep you busy – and get the adrenalin flowing. Lake Arenal is one of the best watersport destinations in the world, not least of all because it's where you'll find us – Volcano Watersports – ready to take vacationers out on the lake for hours of waterskiing, wakesurf, wakeboard or tubing fun.
If you're tempted, why not more about our boat rentals?
And, while you're staying by the lake, you might as well venture into…
The Arenal Volcano National Park
We couldn't put together this list without giving the Arenal Volcano National Park, our neighbor at Volcano, its own special mention.
This place feels like its own little universe, ruled over by the many species of bird, which spend the days chattering to one another from the treetops – as well as monkeys, reptiles, and vibrant plant life that blooms throughout the year.
There are so many hiking trails to follow in Arenal National Park, as well as natural hot springs to swim in. You can find plenty of places to stay in La Fortuna, which is a great place to hang out if you want to get a sense of the local culture.
Here are 10 reasons to visit Arenal Volcano, if you still need convincing.
Monteverde
If Costa Rica made its way onto your vacation bucket list because of its rich and diverse local wildlife and well-protected natural world, then Monteverde should be at the top of your list.
To get you started, make a beeline for the Monteverde Cloud Forest Reserve, which has received rave reviews from the big travel guides over the years. There are some beautiful hotels and guesthouses in Monteverde, many of which will have you sleeping right in the heart of the area's beautiful forestry.
Rio Tárcoles
This one is not for the faint of heart. Here's why…
The Rio Tárcoles is over a thousand miles long, and ends at the Gulf of Nicoya. In the Provincia de Puntarenas, along Route 34, you'll find easy access to a spot known as Crocodile Bridge.
In case you hadn't guessed it already, the name 'Crocodile Bridge' is a result of its view. Pedestrians can look down to the Rio Tárcoles below and see hundreds of crocodiles sunbathing along the muddy shoreline.
If you're driving in the direction of Tárcoles, then you can book yourself on a boat tour along the stretch of river most popular with the crocodiles. Then again, if you prefer to stay up on the bridge, we wouldn't blame you…
Viento Fresco
Yet another beautifully preserved piece of Costa Rica's unique natural history, Viento Fresco (which translates to the English, 'Fresh Wind') is a collection of five incredible waterfalls. You'll have to conquer a steep hike up around 400 steps to get there but, trust us, it's worth it.
The waterfalls themselves offer some great photography points – and, if the forest is starting to feel a little stifling after all that walking, you can change into your swimsuit and take a dip in the cool, natural waters below.
You'll find Viento Fresco about a half hour's drive south of the city of Tilaran. Conveniently, if you find yourself in La Fortuna after a day on Lake Arenal, you can also get to Viento Fresco in under 2 hours if you're renting a car.
Playa Negra
Black sand beaches are just as cool as they sound. The product of ancient volcanic rocks and minerals breaking down into fine grains, much like regular sand, these beaches feel like totally different worlds. The crash of the waves, the bright blue of the sky, the vibrant green of Costa Rica's tropical forestry, and the bold, black sand combine to create a moment we're pretty sure you've never experienced before, and one that no visitor to Costa Rica should miss.
The waters are clear thanks to the incredible efforts to protect the local environment, and when the water is smooth, you'll love taking a dip. On choppier days, the beach is a very popular destination for local surfers, so pick a good spot on the sand and take in the atmosphere of one of the country's favorite beaches.
Playa Negra is on Costa Rica's East coast. The closest town is Tamarindo, which is a very popular destination for vacationers.

Basilica of Our Lady of the Angels, Cartago
While San José may be Costa Rica's capital now, it hasn't always been. Between the years of 1563 and 1823, Cartago stood as Costa Rica's capital city.
The Basilica sits in the Diocese of Cartago – and, well, you'll know it when you see it. An incredible mix of centuries' worth of architectural styles (largely the result of reconstruction efforts made after destructive earthquakes threatened to destroy this beautiful building).
Millions of people make pilgrimages to the Basílica de Nuestra Señora de los Ángeles every summer, while many locals will come to pray throughout the week.
It is an arresting, unforgettable building with a unique history, tightly interwoven with the local culture.
Rio Celeste
While Playa Negra may feel other-worldly, standing in Rio Celeste will make you feel like you've stepped into a fantasy. This river is located deep within Tenorio Volcano National Park, but the long hike there is totally worth it.
But what makes this river so special? The dazzlingly bright turquoise coloration of its waters. While Costa Rica has no shortage of crystalline water – both inland, and along its shores – the waters of Rio Celeste are something else entirely.
It is said that, while painting the sky, God used Rio Celeste to clean off his paintbrush, and that is why the waters bear such a strikingly bright color. Scientists have more recently identified a rare combination of chemical species, which, together, are responsible for the river's rare beauty.
Whatever you believe, it's worth the walk. Just note that, when you're within the national park, you won't be able to cool off in the waters, so dress appropriately.