11 Must-Have Music Tracks for Watersports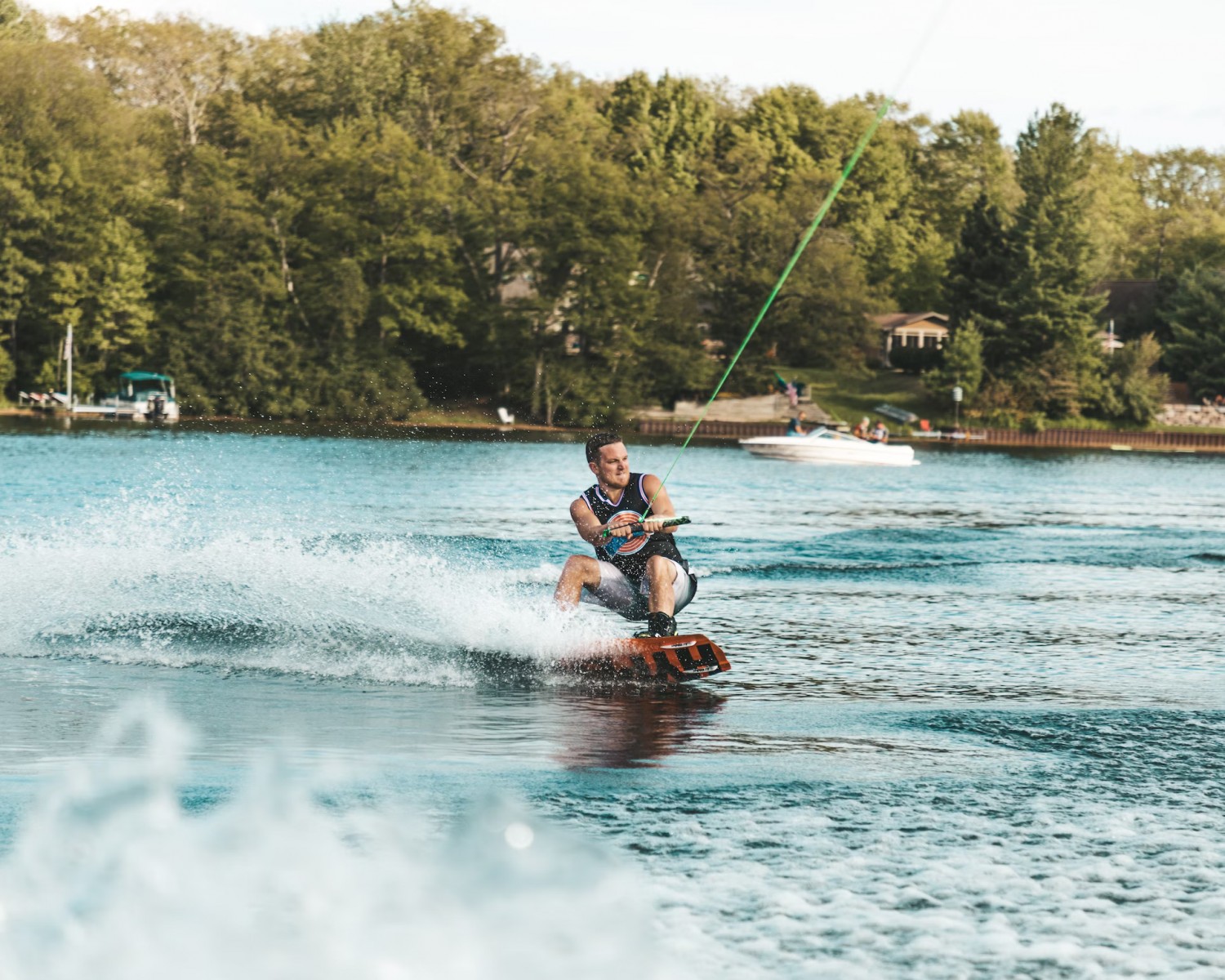 Watersports are a thrilling blend of excitement, athleticism, and the beauty of the natural world. Whether it's surfing, jet skiing, paddle boarding, or wakeboarding, the pulse of the water beneath you and the adrenaline coursing through your veins create an experience that's both exhilarating and deeply grounding.
And, when combined with the perfect energizing soundtrack, it turns into an unforgettable aquatic adventure. Here are some must-have music tracks to add zest to your watersports activities.
Get Lucky - Daft Punk feat. Pharrell Williams
Picture this. The sun is dancing against the glistening smooth waters, you've purchased one of our boat rental services at Volcano Watersports, and you're ready to hit the water. What's missing? A tune like Get Lucky by Pharrell Williams to get you going. Thar is becoming a timeless classic that never fails. The global hit from the French electronic music duo Daft Punk and American artist Pharrell Williams is an ideal tune to get your spirits high. Its upbeat tempo and catchy tune will have you paddling to the beat.
Wake Me Up - Avicii
For an adrenaline-pumping activity like watersports – Wake Me Up by Avicii is a perfect fit. This song blends the energy of electronic dance music with the soul of folk-style lyrics and melody. It's a motivational track that will push you to ride that wave or make that perfect dive.
Calvin Harris - Miracle Feat. Ellie Goulding
Bringing it to the present, Calvin Harris's new song Miracle, featuring Ellie Goulding, has taken the dance music world by storm. The vocals are soft yet truly empowering, and you can't help but move your feet to the beat. David Guetta also produced his remix of the hit song that people love, and it's just as invigorating as the original.
Can't Stop The Feeling! - Justin Timberlake
Justin Timberlake's infectious track Can't Stop The Feeling! is an ideal song for your watersports playlist. Its infectious rhythm, coupled with the positive and uplifting lyrics, ensures that you'll be in high spirits, ready to tackle the next wave.
Gorgon City - Sidewindah
Gorgon City has produced some incredible songs over the years - but Sidewindah is a different spin on the dance music they're used to making. It's intense, uplifting, and pumps you up, ready to skim over the water on your wakeboard with ferocity. Granted - it's not going to be for everyone, but if you want a song that's going to get your mind and body moving, it's this one.
I Bet My Life - Imagine Dragons
Another energizing track from Imagine Dragons, I Bet My Life, encapsulates the spirit of daring and adventure intrinsic to watersports. It's a celebration of the risks we take and the experiences that shape us.
Ahora te Puedes Marchar – Luis Miguel
Released in 1987, Dusty Springfield's original 'I Only Want to Be With You' received a quintessential 80s, boppy, synth cover by Luis Miguel. (He covered 'You Don't Have to Say You Love Me' on the same album, Soy Como Quiero Ser.) That 80s gleam shining through will match the water-caught sun spraying up around you, as the steady beat pulls you along and the Mexican singer careens in a familiar melody but Spanish-translated lyrics.
Go Big Or Go Home - American Authors
This track is essentially a watersports anthem. It's all about the thrill of pushing your boundaries - go big or go home. The infectious energy of the American Authors will motivate you to tackle even the most intimidating waves.
Slow Down - Maverick Sabre feat. Jorja Smith
Don't let the name fool you, Slow down by Maverick Sabre and Jorja Smith will make you do anything but. As the beat drops and your head begins to bop, you almost feel as if you need to move your feet. It's the perfect mix of calm and energizing that's perfect for a day on Lake Arenal with us at Volcano Watersports.
Mi Gente - J Balvin y Willy William (feat. Beyoncé)
This remixed dance anthem dropped twice in 2017 and made splashes. Beyoncé lent her smooth and powerful tones to the second release, which is the version we recommend for your watersport session. It was a mainstay in clubs, and it can translate to Lake Arenal seamlessly. The trill vocal sample and the reggaeton drums will have you skipping across the water. It's a celebration of having fun, ignoring limits and barriers.
Adventure of a Lifetime - Coldplay
Coldplay's 'Adventure of a Lifetime' serves as a reminder of why we seek thrill and adventure. It's an upbeat rhythm, and the optimistic lyrics make it a perfect companion for an exciting day on the water.
Your choice of music can significantly elevate your watersports experience, whether you're a seasoned pro or a total watersports beginner. This playlist of energizing music tracks will make your aquatic adventures even more memorable. So, grab your gear, turn up the volume, and ride the waves to the rhythm of these exhilarating tunes!