Ten Exciting Activities to Cross off Your Costa Rica Bucket List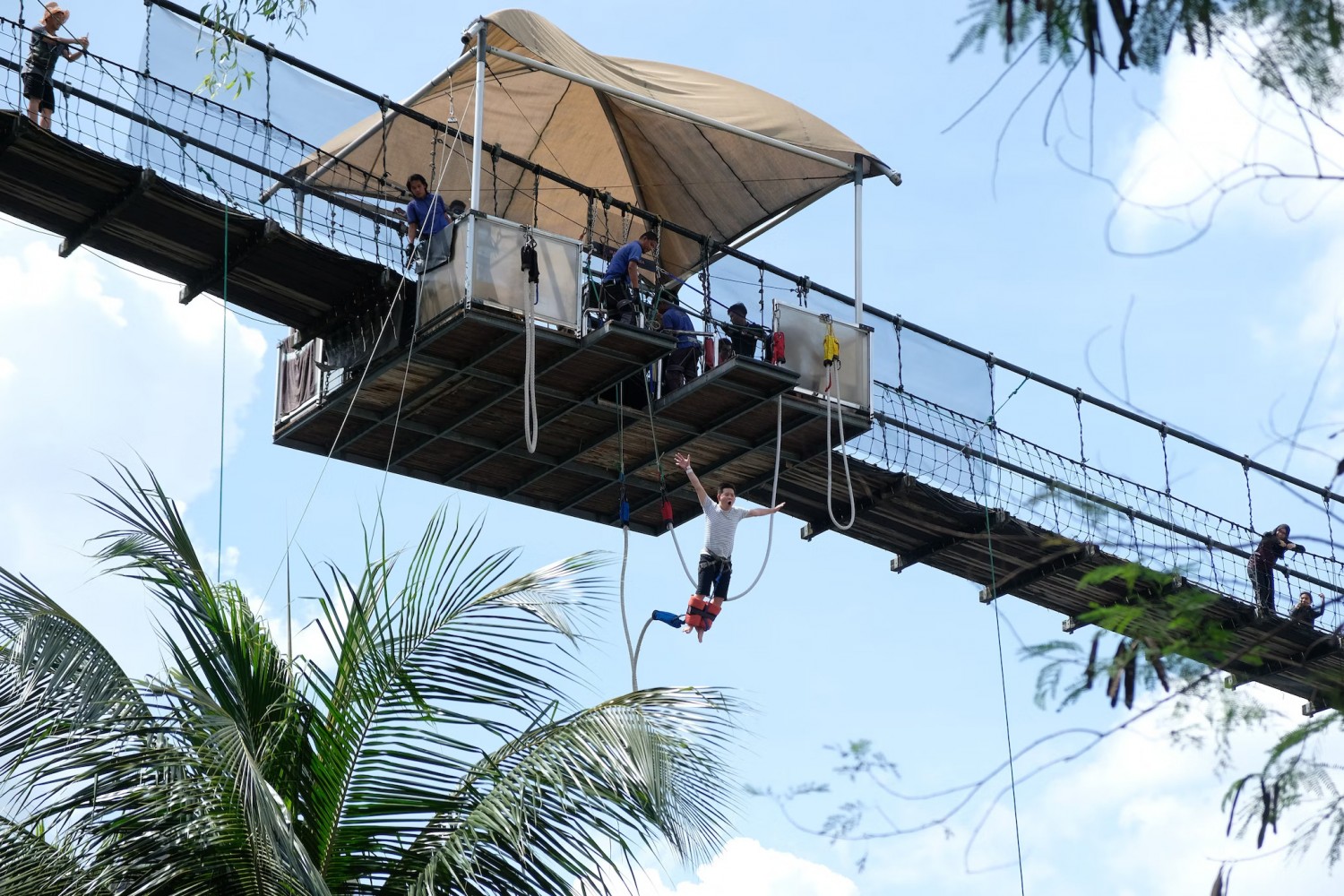 When people talk about the countries they want to cross off their bucket lists, Costa Rica is usually at the top. According to the HPI (Happy Planet Index), Costa Rica is officially the happiest country in the world, and it's not hard to see why.
Whether it's the lavish landscapes, the beautiful beaches, or the wonderful wildlife, Costa Rica is one of those countries that never fails to put a smile on your face when you visit.
But while hiking through the gorgeous rainforests might be fun, it's even more fun to do so at 656 feet up, travelling a zipline at 30 miles per hour!
That's what we really want, right? The sense of adventure and the opportunity to experience something we've never experienced before.
Thankfully, Costa Rica gives that in spades. Although it's a relatively small country – Costa Rica measures around 19,700 square miles, which makes it smaller than the US state of West Virginia – there are a number of fun-filled activities you can get involved in.
Furthermore, no matter what sort of activity you're into, Costa Rica has the amenities to cater to you and ensure the vacation is one to remember.
So, what exactly are these activities? Well, below we've concocted a list of our ten favorites to try out in Costa Rica, as well as a few notes on why they're so special:
Cruise The Water At Lake Arenal
In the northern highlands of Costa Rica, there's a spot called Lake Arenal, which rests in the shadow of the immense Arenal Volcano. It's a beautiful location, teeming with wildlife, an ambient atmosphere, and stunning views that make the place feel so… Zen.
That is, until one of our speedboats whips past at 60 miles per hour, with a whooping skier having the time of their life in its wake!
Yep, that's us. Volcano Watersports. Lake Arenal has been our home for years now, and every year we offer hundreds of tourists the chance to go wakeboarding, waterskiing, tubing, or even go on a Costa Rica boat rental. We realized a long time ago that there's an electricity to Lake Arenal, and it's our job to ensure you don't just observe it, you feel it.
Descubre la historia en el Museo del Oro Precolombino
But Costa Rica isn't just full of lakes, volcanoes, and wildlife. It's also home to one of the most beautiful cities in the world, San Jose. Here, you can get a taste for Costa Rica's pre-Columbian history, which extends from the first settlers to the arrival of Christopher Columbus to the Americas.
This is all showcased at the pre-Columbian Gold Museum, which was established back in 1985 underneath the Plaza de la Cultura. Here, you can take a look at 3,567 pre-Columbian artefacts, including ceramic pieces, stones, jades, glasses and – you guessed it – gold!
For those interested, the gold collection, in particular, dates back to 300 BC, and it includes several animals, amulets, statuettes, and even a life-sized golden warrior. If you want a unique look into Costa Rican history, this place shows how much of an authority gold was for the Costa Ricans, and it is a testament to the incredible craftsmanship of their people.
Disfruta la vida nocturna en San José
Once all the history learning is done, you'll want to let loose a bit. You are in San Jose, after all! This is Costa Rica's largest city, with a population of nearly 340,000 people, but with a nightlife that can rival some of the biggest cities in the world!
Whether you go to the Agencia Meridianos Bar, El Balcon, or simply wander the nighttime markets, the nightlife in San Jose is a great way to feel the country's vibrancy and get to know the locals in a different setting.
It's also a good opportunity to try out all the most popular Costa Rican foods, including casado, tamal, and the mouthwatering sopa negra – Costa Rica's own black bean soup. For the people who struggle with morning afters, there are also plenty of places serving gallo pinto – one of the best cures for sore heads!
Make A Splash In La Fortuna Waterfall
Costa Rica is home to countless waterfalls, but some of the best are in La Fortuna. This is a place very close to our heart… no, we mean it's literally very close to our heart.
Sat just a few miles east of Lake Arenal, La Fortuna is a must-see after a particularly grueling wakeboarding session, with the waterfalls providing a perfect backdrop to sit, relax, and catch your breath for a bit.
La Fortuna Waterfall, specifically, is situated around 5 kilometers from the town and drops 75 meters from the base of Chato Volcano. For those who didn't get wet enough at Lake Arenal – perhaps because you just rented a boat for the afternoon! – there's also a beautiful river right next to the waterfall that is a popular swimming area for locals and tourists alike.
Become An Explorer In The Venado Caves
Ever seen those wildlife documentaries where explorers venture into vast caves, filled with mysterious stones, creatures and waterfalls? Well, in Costa Rica, you can swap the television screen for real life!
Set within the northern lowlands, the Venado caves are a 2,700-meter stretch of limestone formed nearly 20 million years ago. Here, you will find everything from incredible rock formations, wildlife including bats, snakes and amphibians, and some more wonders that we won't discuss here – we don't want to spoil all the surprises!
If you ever thought of being an adventurer as a kid, this is the perfect place to fulfil those dreams and explore a world completely different from your own.
Test Your Limits In Monteverde
For all the adrenaline-rush lovers, some of the most exciting things you can do in Costa Rica reside in Monteverde -- specifically, the Monteverde Extremo Park. Here, you can enjoy ziplining through pitch-black caves, horseback riding through luscious rainforests and even bungee jumping 450 feet above a wide open valley – the clue's in the name "Extremo"!
For many people, activities like these are activities that they think of doing, but have yet to get around to it. But without a doubt, if you want to test your limits, Monteverde is the best place to do it. Not only are you in the safe hands of experts, but you'll also be doing everything in one of the most beautiful spots in all of Costa Rica.
Sure, you might not really appreciate that when you're hurtling through the air on a bungee rope, but it's pretty cool all the same!
Win A Golden Ticket To The San Mateo Choco Tour
If you do go bungee jumping in Monteverde, you'll probably need a bit of comfort food after you're done! One of the best places to get it is in San Mateo, where you can not only get a taste of chocolate, but learn about its journey – from cocoa beans to the finished product.
Chocolate is very important to Costa Rica, of course, but this is a very different tour compared to all the others in the country. There is no cacao plantation here, only a single house and a garden where chocolate is made by a talented local chef.
From him, you will learn about cocoa bean fermentation, the sun-drying process, as well as the roasting and grinding of the beans. A truly fascinating experience for all the chocolate lovers out there!
Swim With The Fish In Santa Teresa
If you decide to join us at Lake Arenal, there is a good chance that you will experience a few animals, including exotic birds and fish that reside around and inside the lake.
But if you want to get to know them on a first-name basis, you should go scuba diving in Santa Teresa! This is one of the most popular spots for wildlife sightseeing, and is absolutely perfect for water wildlife lovers. Ananda. Dive 'N Flow is a dive and freediving center ready to take you to discover the underwater world.
Some of the fish you can see include yellow barracudas, salemas, rays, and shoals of bogas and striped seabream. If you're lucky, you might even come across a few dolphins! Although, make sure you keep your wits about you. Dolphins are known to be a bit mischievous when they're in the mood!
Channel Your Inner Attenborough At Ostional Beach
You don't need to be in the water to spot aquatic wildlife, either. One of the most famous activities in Costa Rica is turtle watching at Ostional Beach.
Every year, between April and December, hundreds of turtles hatch from their eggs and leave their nests to submerge themselves in their new home – the ocean! As far as wildlife watching goes, this is one of the most beautiful and exciting things to see not just in Costa Rica, but the whole world.
Ostional Beach is also one of the most beautiful beaches in Costa Rica, so even if no eggs hatch while you are there, it's not a bad place to relax and wait, especially with a smooth Costa Rican cocktail in one hand!
Ride The Waves Of Tamarindo
To finish off, we're going to talk about the activity that everyone should try in Costa Rica at least once. It can be very tempting to go to one of the many beaches in Costa Rica and simply sit, relax, and enjoy the sound of the waves. But we're here to tell you that you should do more! In Tamarindo, for instance, hundreds of tourists and locals travel to the beach not to relax, but to put their skills to the test and ride the waves.
Surfing in Tamarindo is possible all year round, with the Green Season being the peak time for those who want bigger waves. Even if you don't think you'll be very good at surfing, this is an enormously fun activity that is easy to perfect in a short amount of time. Heck, even if you don't master standing up, simply riding the waves on a bodyboard can give you just as much of a thrill.
Just like Lake Arenal, this is a way to experience the place you're in, rather than just sit back and observe. That's what vacations are all about, after all. Experiencing life in a way you've never done before. So, get over here and do just that!