10 Things to Pack for a Watersports Vacation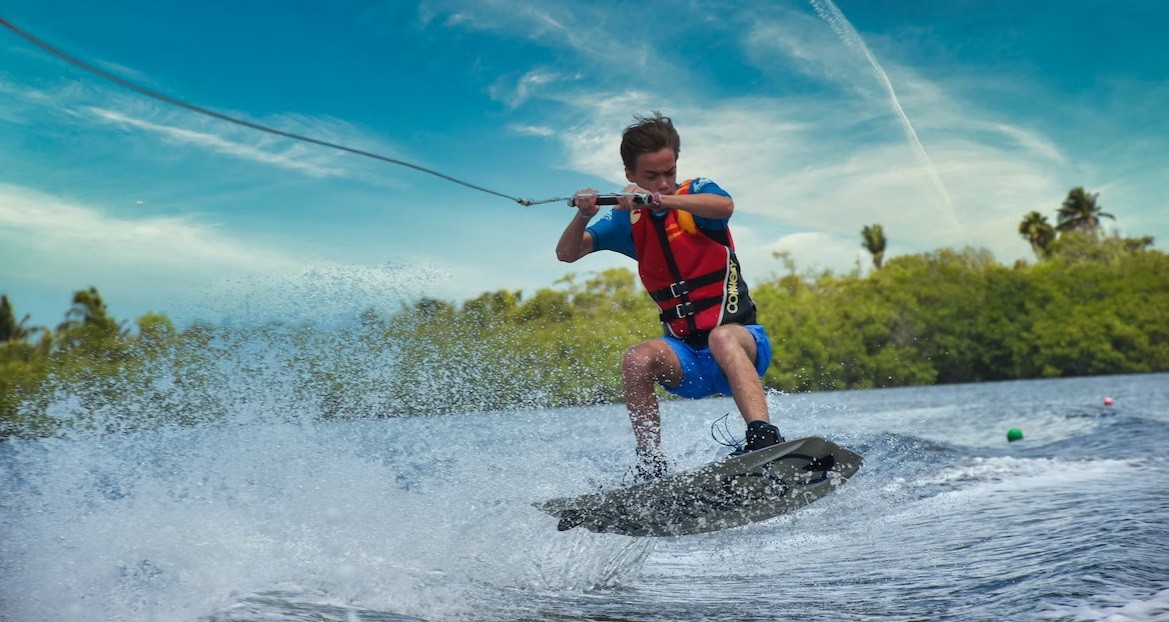 There's something in the water of Lake Arenal. Set against the backdrop of the 700-year-old volcano, the water feels like nothing else. Sure, you've no doubt spent some time on the water somewhere in the world – but, until you've hung out on (or in) the waters of Lake Arenal, you can't appreciate the magic lapping just beneath the waves.
Whether you have dug your heels into our wakeboard or are simply coursing along in one of our rental boats, you can feel the volcanic power of the waves beneath you.
We've known it for a while now, and our customers know it almost as soon as the water is beneath them. This beautiful lake doesn't just want to be seen. It wants to be experienced.
Choosing Lake Arenal for Your Watersports Vacation
We have made Lake Arenal our base for a long time now, and we believe it's the best place in the world for a pro, amateur, or beginner to test out their watersport skills.
With our boat rentals, you can feel a rush unlike any other. We can help you from beginning, middle to end to ensure you have the best experience of your life, whatever your skill set. Even if you just want to rent a boat for a few hours, we're here to give you everything you need.
You can leave all the tricky stuff to us – but you'll want to make sure you come with the basic necessities.
A watersports vacation – wherever you choose to go – means a slightly different packing plan. You need to pack your bags not only for the vacation, but the specific activities you are going to try out. Don't worry, though, it's pretty simple. At Volcano Watersports, we're here to help you all the way, from packing your luggage to riding the waves of Costa Rica.
Here's a top ten list of all the things you need to pack to make your water sports vacation a successful one. Let's start with the basics:
1. Your Health Insurance Card
We know how it looks, but don't panic. Our trained instructors have a wealth of expertise and knowledge, which means our setup is one of the safest you can find. The boat is full of safety precautions and – as we said – we're here to help you the whole way.
That being said, wakeboarding, water skiing and even tubing are water sports. As with any sport, there are risks of injury. This is why it is essential you remember your health insurance card to ensure you are covered should anything unexpected happen on your vacation – whether you're on the water or on dry land.
2. Water-Suitable Sun Cream
Sunscreen is an absolute necessity for a vacation, but especially if you are going to be spending a lot of time in the water. The reflective surface of the waves makes sunburns far more likely, so you need to be adequately protected from the UVA and UVB rays.
The best sunscreens can help to ensure you stay safe and enjoy a whole day in the water without any burned skin to show for it. After all, as with any watersport, you're going to want to go again. And again. And again. You don't want a sore body or heat stroke to get in the way of your experience, so make sure you take all of the precautions necessary to keep yourself in full working order.
3. Casual Clothes
If you've decided on a watersports vacation, you're probably wondering how exactly you're going to fit your wetsuit into your suitcase. Well, don't worry. At Lake Arenal, the average water temperature is 72 degrees – we're next to a volcano, remember? This means that the water of the lake is warm and perfect for watersports without the need for a wetsuit.
All you need, then, are casual clothes that you don't mind getting wet. This will also help when you're attempting to stand on a wakeboard or water skis. Casual garments are far looser than a wetsuit, meaning you can move freely in and out of the water even when your clothes are soaked.
4. But Remember Warm Clothes Too!
Before you get too excited, you should be bringing some warm clothes along too. Yes, Lake Arenal is warm, but if you're out in the water all day – especially with a strong breeze – you may start to experience the shivers. You need warm clothing to change into.
The adrenaline might mean you don't really feel the cold, but after a few hours, your body will certainly feel it. Make sure to look after yourself with some thick clothing specifically for when you get out of the water.
5. A Rash Vest
A rash vest – otherwise known as a "rash guard" or "rashie" – is a tight-fitting vest that can not only protect your torso from soreness or water rashes, but also keep you warm and protected from the sun whilst you're on Lake Arenal.
Being out on the waves with just a life jacket on skin is just asking for an uncomfortable night's sleep, especially if you are planning on spending a whole day on one of our rental boats. Even just a few hours in our kayaks, however, can cause a little bit of soreness if you are not well equipped. A rash vest can help you to avoid discomfort, so make sure to make that purchase before you jet out.
6. Some Sunglasses
We definitely don't recommend you wear your Ray-Bans out on the water – unless you want to watch them spiral off into the waves, of course. But whether you're sitting down for a bite to eat or to watch your friends put their skills to the test behind the boat, you'll want to be able to take in the sights without having to squint.
7. A Waterproof Bag
Although you might not be pulling insane tricks on your first time out, there's nothing more photo-worthy than speeding along the water with a rainforest and a volcano as a backdrop.
You'll want to capture moments like this, but phones and water don't exactly mix very well. With a waterproof bag, however, you can bring your phone out on the boat and make sure you get a couple of Insta-worthy snaps. Not only this, but a waterproof bag is perfect for other essentials, including sunscreen, insect repellent and medication too.
8. A Camera
Before you jet out on your water sport vacation, don't forget to pack a waterproof camera or GoPro. When you're out there making memories on the wakeboard, your group will love getting some sweet (or hilarious) action shots of you flying over the water – or maybe those first few not-so-good-looking first few attempts, too.
Don't bring any high-tec, fragile equipment, as things can get choppy out there. Bring something that you don't mind getting wet – maybe even a disposable camera.
9. A Fitbit
Ever considered investing in a Fitbit? Well, a visit to Volcano Watersports gives you the perfect reason to do it. Watersports like wakeboarding boast so many health benefits, and you're sure to burn a few calories whilst out on the water with us.
A waterproof Fitbit will allow you to track how far you were pushing yourself, meaning you're not left in the dark about your burnt calories. Trust us, you're going to feel the burn the next morning, so a Fitbit is essential if you want to know just how beneficial the water sport session was.
10. Your A-Game!
Last – but certainly not least – if you're planning on visiting us at Volcano Watersports, you're going to want to bring your A game! We're all about having fun, but also teaching you how to find the best and most extreme version of yourself.
Even if you're a pro, there is always more to learn and room to develop, but you can't do that if you're not prepared for the ride. This is going to be one of the most extraordinary experiences of your life, so get excited, put your game face on, and prepare to find yourself on the waves!
A Volcanic Experience Is Just About To Begin…
Once all of these essentials are packed, the excitement for what's to come will truly begin. With thousands of visitors a year, you probably already know what makes Arenal so special.
Trust us when we say that nothing beats the feeling of riding the wake of our boat, with the wind in your hair, the sun bearing down upon Arenal Volcano, and your comrades in front of you cheering you on. It's an experience that you will never forget. So, what are you waiting for? It's time to get packing!