North, South, East and West – What You'll Find At Each Edge of Lake Arenal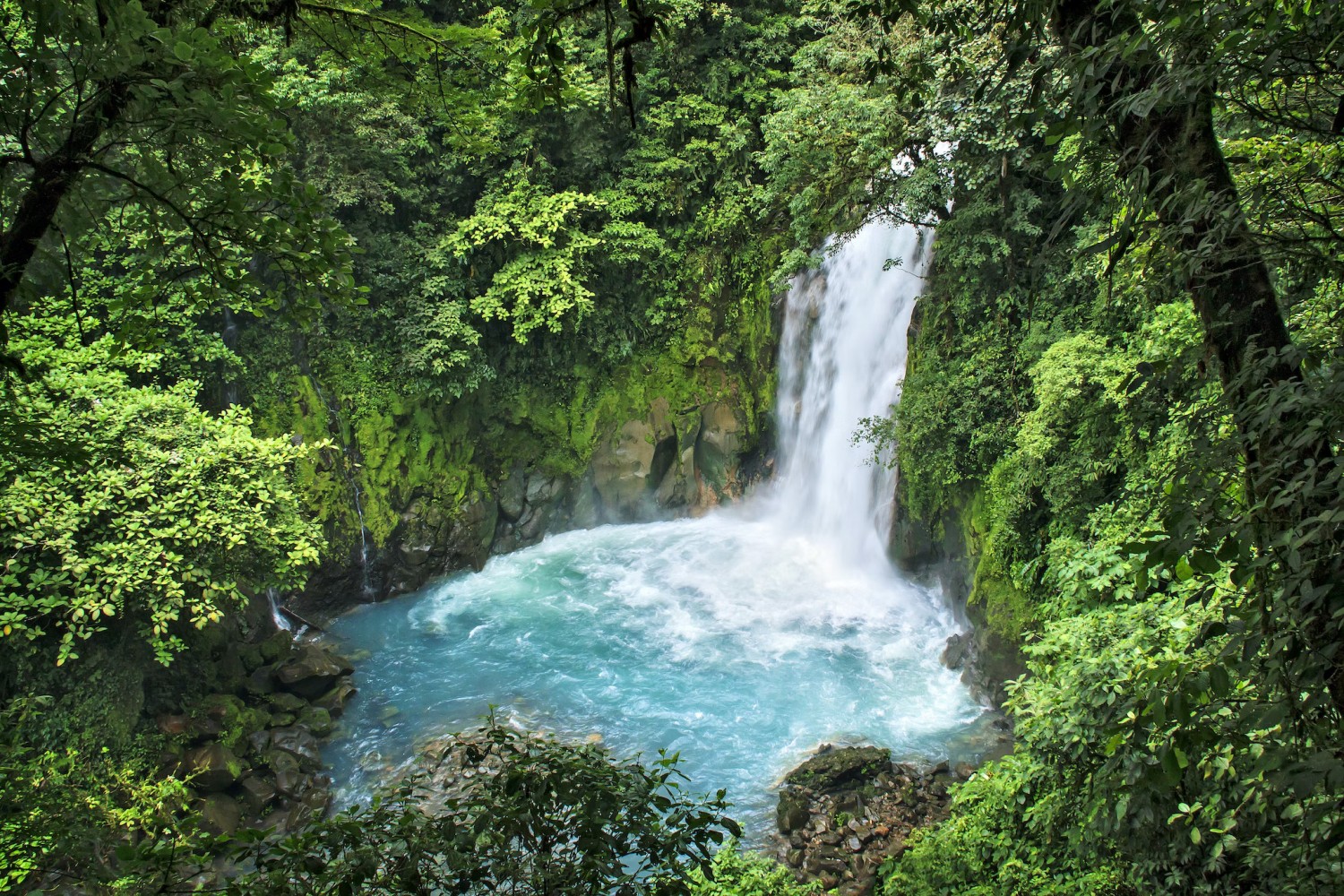 When traveling to Costa Rica, it's guaranteed that the country will deliver on one thing. Even if you're in a bad patch of the rainy season, or the hotel you're staying in isn't quite the one you booked, or you break down on the way to that hotel; you're not going to mind because the visuals alone will make the trip worth it.
Costa Rica is considered one of the most beautiful countries in the world. In many ways, it looks like a sculptor crafted the country with glorious mountain ranges, maze-like rainforests, and glorious coastlines that stretch as far as the eye can see.
The colors are beautiful too. Deep blues, stunning reds, greens, yellows, pinks, any color you can think of, you will find it here in Costa Rica. From the forests to the wildlife tucked away within them, there's so much to experience.
The World Of Arenal
One of the best examples of this resides in Lake Arenal. Sat in the shadows of the famous Arenal Volcano, this is one of the most popular tourist spots in the country, famous for its stunning views, ecological rainforests and awe-inspiring landscapes.
But it's not just the views you will be treated to if you make your way to Lake Arenal. All around the lake, there are several activities to ensure that you not only witness the incredible scenery, but you experience it too.
That's why we've set up our base here. Sure, it's nice to come to Lake Arenal and enjoy the sights. But it's even more fun to do so in your very own boat rental, or on the back of a wakeboard going at 20 mph!
So, what exactly are you going to experience whilst visiting Lake Arenal? Of course, it's likely that – seeing as you've clicked on this blog – you already know everything about Volcano Watersports, so what other things can you get up to whilst visiting the lake?
From north to south, from east to west, here are the best places and activities you will find when visiting Lake Arenal:
To The North
To the north of Lake Arenal, there are several beautiful places to visit and exciting ways to experience them. The first – and perhaps most popular – are the Mistico Arenal Hanging Bridges.
Of course, trekking along the rainforest canopy and viewing it all from eye level is great fun, but the most elaborate way to do it is a couple of hundred feet up in the air, looking down upon the rainforest beneath you. The rainforest itself covers around 617 acres of land, with the trail coming in at around two miles long, with 16 bridges in total.
Wildlife to look out for here include the howler monkeys, red-lored parrots and sloths. You might even spot a jaguar on your adventures; they have been known to traverse the rainforests here. And if you do spot one, you'll be thankful you're a couple of hundred feet in the air!
As well as this, there is also the Cuevas de Venado, which is an extensive cave system over 6 million years old. It was discovered back in 1945 and is still not entirely explored, but there are several tours that take place every day, allowing you to examine the sheer beauty of the caves, as well as the many waterfalls, stalactites, stalagmites and exotic wildlife that lives inside – including fish, insects, bats and spiders!
However, if you want to be a bit closer to the lake – and a bit further away from any spiders – then there are also horse-riding sessions that will take you along the waterfront. This is a great way to experience the beauty of the world around you at your own pace and in your own style. You might even see one of our boats speeding along the lake. Please don't get too jealous, though; it's never too late to book a watersports vacation!
To The East
To the east of Lake Arenal, you will find the piece de resistance of this beautiful country. Arenal Volcano. Sitting at 1,657 meters in size, this is one of the most famous volcanoes in Costa Rica, not least due to its incredibly high levels of magma, giving it the potential to erupt as many as 3 to 5 times in one day.
As well as volcanos and hiking spots, there are also the Hot Springs. This is another favorite spot for tourists in the country, with a number of people visiting every day to reap the health benefits. The river pools themselves reach an average of 72 to 105 degrees Fahrenheit, with an unbeatable combination of volume and mineral content, both of which are known to help with skin dilution, oxygen flow as well as muscle relaxation – perfect after a day of waterskiing!
The pools are in a spot known as La Fortuna, a town worth visiting in itself, if only for the incredible restaurants and bars to explore. The town is quaint, with the rainforest nearby providing the perfect backdrop for relaxation, wildlife watching and bird watching too.
Some of the wildlife you can find here include the three-wattled bellbirds, the water-running basilisks and even the capuchin monkeys – although coming across the capuchin monkey is not necessarily a good thing; they are known for being the most mischievous animals in Costa Rica, after all!
To The South
The incredible sights and experiences near Lake Arenal do not stop there. If you venture down to the south, one of the first things you will come across is the Sky Adventure Park. If the hanging bridges weren't frightening enough for you, then this will certainly induce some vertigo, as you're going to be ziplining hundreds of feet above the rainforest, with nothing but open air beneath your feet and the tree line.
Other activities include treetop walks, rope swinging and even abseiling. We would suggest visiting the notorious "Arenal's Hand", too. This is a larger structure of a hand that juts out over a cliff edge, with a great view of the rainforests and Lake Arenal in the distance; perfect for any travelers wanting a showstopper photograph on their vacation!
Near this spot is also the butterfly conservatory, a nature regeneration project dedicated to studying the rainforest, growing and preserving the local wildlife – with a particular emphasis on butterflies. It is also open for the public to come along and take a look at some of the butterflies in question. Make sure to wear bright clothing – dressing like a flower will lure the butterflies towards you, so you can really get up close and personal!
To The West
For any history lovers out there, if you travel to the west of Lake Arenal, one of the first things you will find is the "Monumento Arqueológico Nacional El Farallon" – which translates to, "The Wall Of The Corobici Indian Sun".
This is an incredible 925 square feet wall where Corobici indigenous people inscribed petroglyphs into the stone. The people themselves used to worship a sun god named Sua and a moon god named Chia, both of which are immortalized on the face of this wall with beautiful, mystical drawings.
Near this ancient landmark, there is also the Mystica Retreat, which offers several services such as yoga, healing, art, and sports. For those looking to use this time to switch off, you can't get much better than this spot – if yoga and healing isn't really your thing, it's also got a glorious Italian restaurant if you've got a bit hungry after all that wakeboarding!
Speaking of hunger, another beautiful place to sate your appetite is at Equus, a gorgeous barbeque bar that offers mouth-watering dishes, including ribs, seafood and even some beautifully put-together Greek salads, for all the vegetarians among you.
In many ways, there's nothing better than sitting in the outside bar and watching the day flicker into night. Just imagine a sparkling red sunset, making the water of Lake Arenal glisten and Arenal Volcano shade into a silhouette. Sound dreamy? Well, here in Costa Rica, dreams like this can be turned into a reality.
The Heart Of Your Travels
If you are traveling to Costa Rica, there are so many reasons to let Arenal National Park represent the heart of your travels. This is a gorgeous spot where you can experience the expanse of what Costa Rica has to offer – whether that's incredible wildlife, fun activity spots, restaurants, bars, caves, you name it; Arenal has it all.
Going back to what we said before, Costa Rica is generally recognized as one of the most beautiful countries in the world, but it isn't enough to simply look at that beauty. It is asking you to experience it, to get involved, to squeeze out everything that the country has to offer. You can get all of that out and more in and around Lake Arenal, ensuring your vacation is as perfect as you dreamed it would be!